Why Gasparee Caves is the best destination in Trinidad to visit for fun filled family day
If you are looking for a thrilling destination in Trinidad to take the family or go on a lime with friends, then your best choice may be Gasparee Caves on the Island of Gaspar Grande off Chaguaramas.  Gasparee Caves is an exciting eco-adventure destination that combines a thrilling cave adventure with hiking fun and a sensational boat ride across the waters off Chaguaramas.  With all this packed into one tour, Gasparee Caves is an unforgettable, a fun-filled and exhilarating family or group outing.
Book your Gasparee Caves tour now
A Thrilling Cave Adventure
First off, it's a huge Cave!  Nothing is more exciting than the thrill of entering the unknown below the earth's surface.  You descend 100 feet underground and walk through magnificent caverns. But the awesome thing is that this is not a dark hole filled with creepy crawlies, but rather a well-lit cave with magnificent calcium formations that literally took hundreds of years to form.  In the formations spectacular stalactites and stalagmites some say they can see a dinosaur, others, an appearance of Michael Jackson dancing.  What will you see?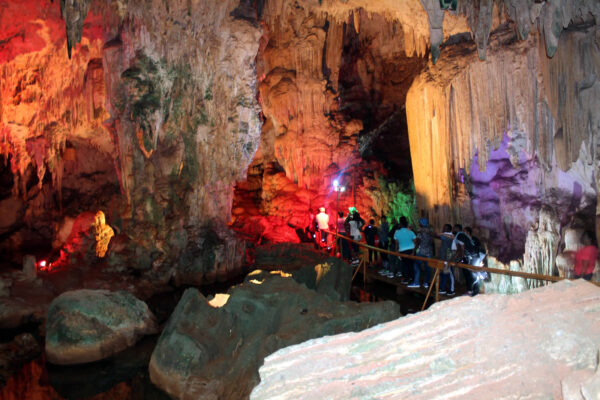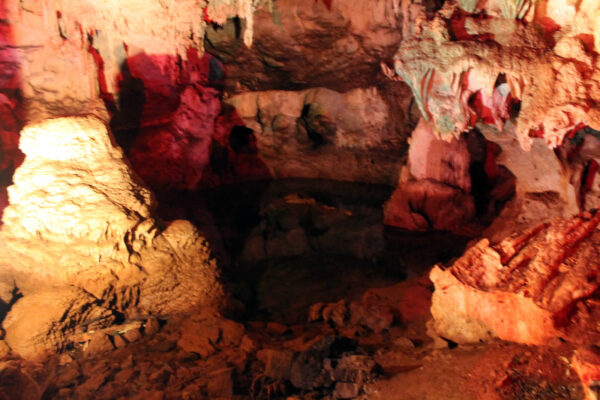 There's a sensational Salt Water Pool at the bottom
One hundred feet underground, at the base of the cave is salt water pool that shimmers in a kaleidoscope of colours and reflects light all around the cave.  The water in the pool is constantly refreshed by the tide and is great for a swim.  At present, swimming is restricted, but hopefully this will change soon with the introduction of additional safety measures.  But for now you can soak your feet in it and admire its beauty.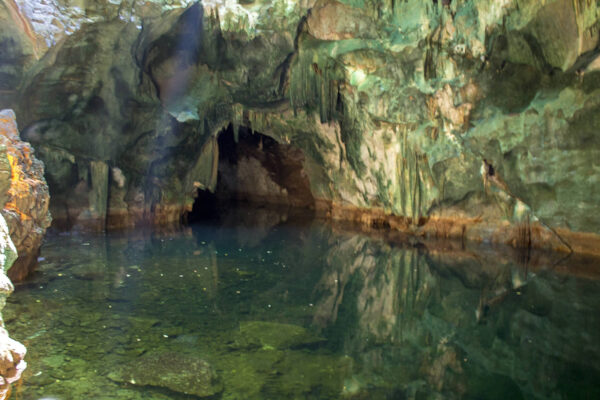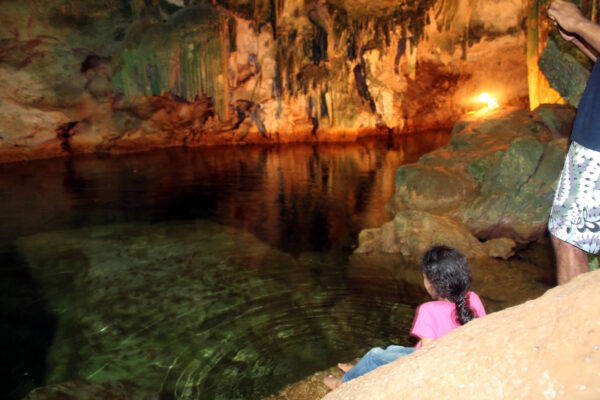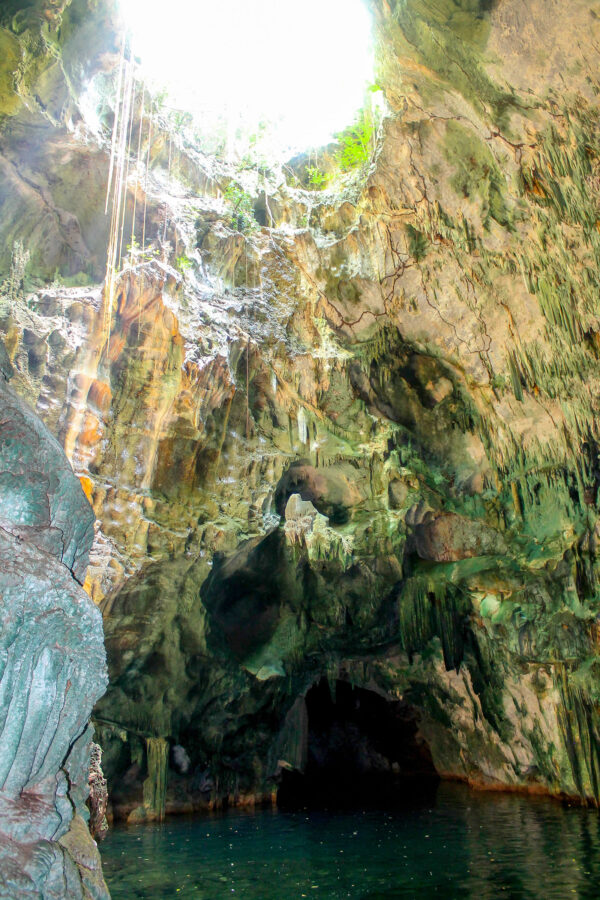 All Aboard!  Take a Scenic Boat Ride
A Gasparee Caves tour includes a relaxing boat ride from Chaguaramas to Gaspar Grande island.  Passengers after being equipped with life vests, are treated to a fabulous boat ride as they survey the surrounding islands and the beauty of Gaspar Grande island.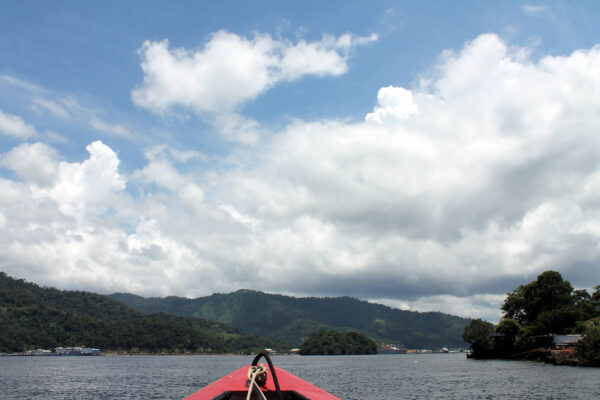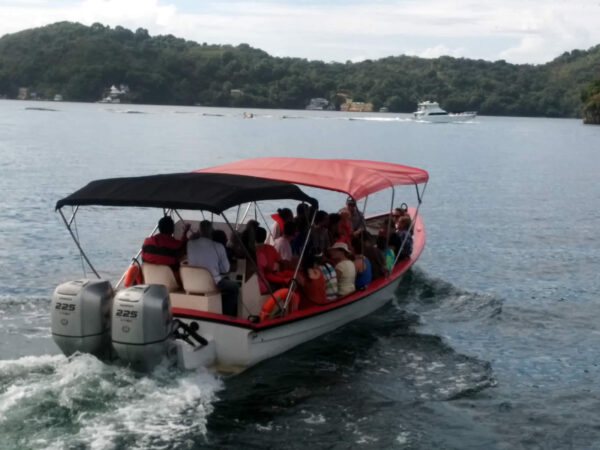 Hiking Fun Included!
Once on the island of Gaspar Grande, getting to the caves requires a 15-minute uphill climb since one enters the caves from the top.  But have no fear.  It's an easy and fun hike that even kids 5-year old can enjoy.  It's all part of the blood pumping preparation for the descent into the cave.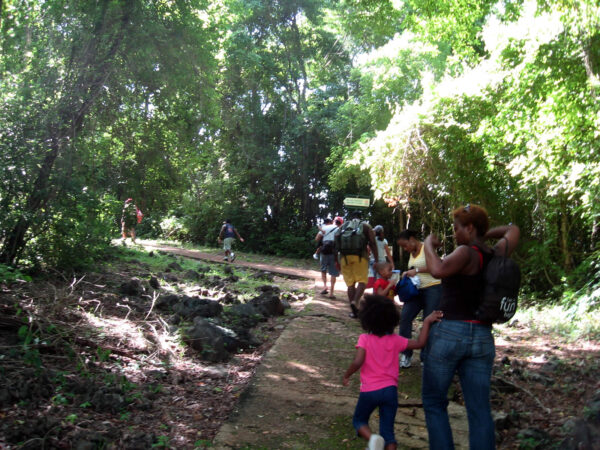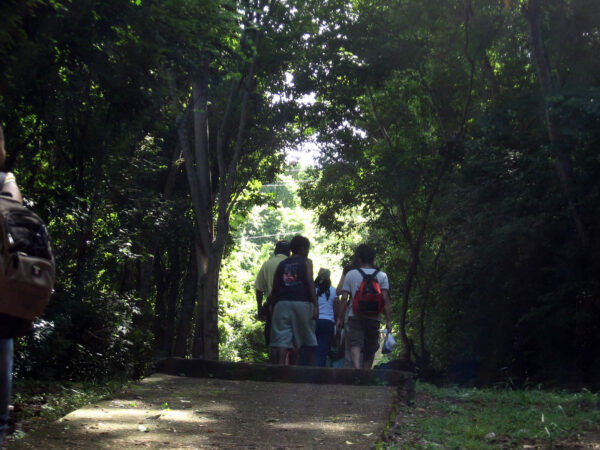 It's Educational
Okay so we don't want to be a drag with this talk of education, but there are really interesting and facts to learn along the way.  For instance did you know there was a whaling post that once thrived on the island?  Do you know who first owned the island; or how the caves are formed.  This information, provided by your certified tour guide makes a Gasparee Caves visit a great experience for kids and wonderful family adventure.
Book your Gasparee Caves tour now
x
Gasparee Caves Tour Booking Form