With land formations and natural attractions such as a wetland, rock formations, caves, a coconut estate and the best part – calm waves, Columbus Bay is perfect for everyone.
Like
Details
The majestic Columbus Bay lies on the South-West peninsula of Trinidad. It is considered "deep south" by locals, as reaching the destination can take over three hours from the capital, Port of Spain and one hour and a half from San Fernando.
The extensive beach stretches over 4km in length. The waves that come to the shore from the Gulf of Paria are calm and ensure an enjoyable swim for all. The wide expanse of sand make it an ideal spot for a picnic or games on the beach. The adventurous can also explore various the land formations and natural features of the Bay.
Columbus Bay is bordered by two points, Los Gallos Point and Corral Point. On a good and clear day, it is possible to see the Venezuelan coast from Corral Point. An eroded headland stands at Los Gallos Point which adds to the unique beauty of the bay.
The remarkable sea caves and sandstone stacks were created by sea erosion caused by the continuous pounding action of the waves. There are three stacks standing in the midst of the bay known as the "three sisters". The upper beach is bordered by the Constance Coconut Estate, the largest coconut estate in Trinidad, and a small wetland is located in the central area of the shore on the bay.
It is believed that this is where Christopher Columbus first landed on the already inhabited Trinidad and Tobago on July 31st, 1498 on his third voyage. It is said that on the first night his ship was anchored on the beach, a gaint wave crashed against the ship causing it to lose its anchor. Today, the anchor can be seen at the National Museum.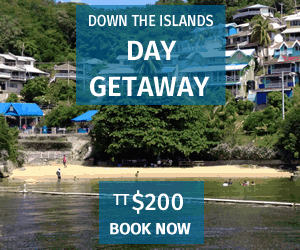 Reviews
Start your review of Columbus Bay
Click stars to rate
---
Latest Reviews
Awesome beach!!!! Very relaxing!!!
Long drive but it is worth the while!!!!
Nearby Destinations
No destinations within 5km (3.1 miles)