The Best Destinations in Trinidad to get into the spirit of Christmas
Christmas in Trinidad is like no other in the Caribbean.  Similar to Carnival, a 'Trini' Christmas has a certain hectic feel to it.  From the hustle and bustle of Christmas shopping, the preparation of the lavish array of food and drinks, extensive house cleaning, decorating and upgrades to gift exchange on Christmas morning and Paranging from house to house, you often cannot catch your breath.  But if you want to slow down and really get into the spirit of Christmas, here are the best destinations to do so:
Lights on the Boardwalk
Strolling along the Chaguaramas Boardwalk is normally a relaxing and refreshing experience.  But at Christmas, the Boardwalk gets an added touch of magic with the lighting of the trees that light the walkway.  The combination of the night air and Christmas lights re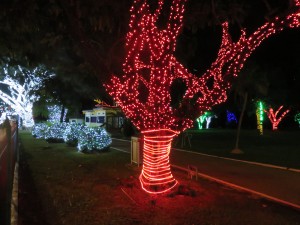 flecting on the water make for a truly enchanted feeling. With the added touch of Parang on the Boardwalk, every Sunday from October and to the Sunday before Christmas, a visit to the Boardwalk can easily become a Christmas tradition.
The Crèche at Archbishop's House
If Christmas for you means the Nativity scene, then the Roman Catholic Archbishop's House with its extra-large outdoor Crèche is the destination for you.  Each year, the Archbishop's residence displays a 50 ft high nativity Scene that is adorned with intricate lighting that really puts the reason for the season back into your heart. Take a stroll along Queen's Park West, grab a bench near this historic residence of the Magnificent Seven and enjoy the Holy scene.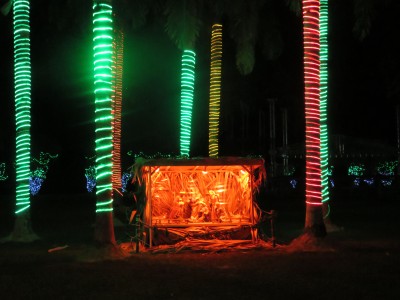 Lights, Camera, Action!
Take a five minute walk away from the Archbishop's House, in a clockwise direction to the Botanical Gardens, and there you will be treated to parang, free popcorn, drinks and a free 'Movie Night Under the Lights'.  The Botanic Gardens brings additional splendour to the Queens Park Savannah as its majestic trees and flora are adorned with lights of various colours which can be seen from the opposite side of the Savannah.  An added touch of splendour comes with a free weekend Christmas movie shown on a 2 storey 50ft wide HD screen – a marvellous family outing or romantic date for you and that special someone.
Parang Parang
For many Christmas is not complete without being serenaded to traditional Parang music.  If you agree, then head to the home of Parang in village of Lopinot for 'La Fiesta De Parang Lopinot' – a day long festival of Spanish tradition, sumptuous cuisine and of course lots of great traditional Parang.