7 things to do before the year ends
As we come close to the end of 2015 we are sure there are some "to go" destinations that you have been meaning to visit and we are here to narrow down this list and get your prepared for that last thrill before 2016!
Stand Up Paddle through the Caroni Swap
Caroni Swamp and Bird Sanctuary is full of mangrove forest, marsh and tidal lagoons which make it perfect for Stand Up Paddle Boarding (SUP). Options are endless, with many hidden adventures to explore through this quiet and mysteriously beautiful place filled with white flamingos, egrets, herons, caimans, snakes, racoons and anteaters swimming or roaming around the surroundings. But the best sight of them all is seeing the green mangrove turn red when the national bird, the Scarlet Ibis come in to roost on evening, undoubtedly fascinating! For SUP tours contact Liquid Adrenalin Watersports.
Zipline through the Forest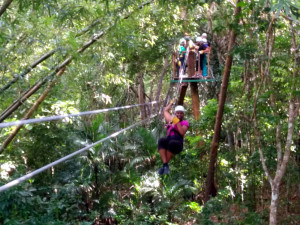 This heart pounding experience is 100 feet off the ground through Tucker Valley offers a bird's eye view of the breathtaking beauty at Macqueripe Bay, Chaguaramas. This thrill of a lifetime is done under the watchful and keen eyes of the staff of ZipITT, who ensure all your zipping needs are fun safe and secure! Simply a must do!
Climb to Top of Argyle Waterfall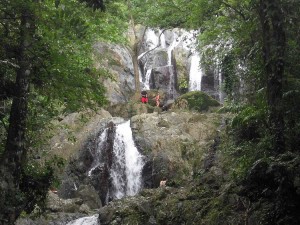 Tobago's highest waterfall, Argyle Waterfall has three cascading levels of water gushing through the foliage into a deep pool below.  It is one of the island's accessible falls but does call for some zeal and effort to reach to the top! The second level is quite enjoyable with a Jacuzzi like natural pool with surrounding rocks to relax on while the third tier has you mustering up your energy (and excitement) to the deepest part of the fall where you can let go and swing from nearby vines and plunge into the cool relaxing water.
Skip, hop, jump across the Sea!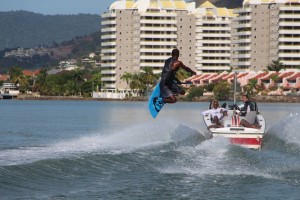 Stray away from the norm of snorkeling, swimming and sun bathing at the beach and try some wakeboarding! An exhilarating sport that can be undertaken by anyone. So get strapped up, hang on and let the splashing water wash away your worries. Contact Liquid Adrenalin for all your water sporting needs – a tour company operated by two guys who are passionate about watersports and get a thrill out from teaching others to enjoy the water!
Visit a Temple in the Sea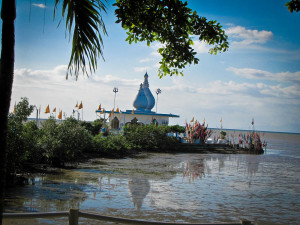 Built off of love and devotion to Hinduism, this temple was built out at sea, with a devotee travelling back and forth with rocks and other materials at low tide to build a platform to his beautiful mandir.  This octagon shaped temple sits proudly at the end of pier overlooking the sea is decorated with prayer flags that mark ceremonies honouring the departed.  The colourful structure holds great reverence which is reflected in the well-crafted murtis of Lord Hanuman, Lord Ganesh, Lord Shiva and Mother Durga and flowers adorned around them.
Become Young Again in the pools of Sulphur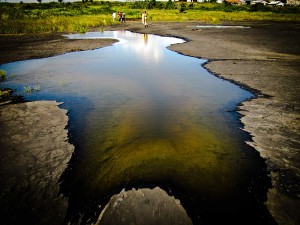 If you listen closely you can hear the soft hissing and bubbling of the pitch below your feet, no need to be alarmed but this how this large asphalt lake is said to stay alive and provide for most of the world's road and other infrastructure.  The La Brea Pitch Lake, the eighth wonder of the world, as called by the locals is said to have mysterious and natural powers in its Sulphur pools. These pools have developed in the various soft packets of the lake where the rain water and Sulphur mix – Legend has it that a dip in these pools can heal joint pains, sinus and skin conditions!
Swim in a Pool in the middle of the Sea
A clear blue pool situated in the middle of the Caribbean Sea! This formation came about because of its close proximity to the Buccoo Reef, broken coral fragments have formed an off sure sand bar creating a swimming pool like area known as the Nylon Pool.  Named after Princes Margaret in the 50s, claimed that the waters were just as clear as her nylon stockings, this metre-high sometimes even shallower pool is  a very popular spot on the reef tour with the its rejuvenating benefits.