From the waves for surfing to treks to the reef fringe to explore the marine life the adventurous possibilities at the Salybia Bay are endless!
Like
Details
The beautiful Salybia Bay is on the North Eastern tip of Trinidad. It is easily confused with Saline Bay that is located within the fishing village of Salybia. To reach Salybia Bay, follow the Toco Main Road and turn onto right onto Galera Road from the Toco junction. The beach is approximately 2 kilometres east of the secondary school.
The 700m stretch of whitish-grey sand greets the Atlantic waves that come from the northwest. The West and East ends of the The Eastern end of the Bay is sheltered and the gentle waves that lap at swimmers are broken by the surrounding coral of the Salybia reef. At low tide, one can walk out to the reef flat and view fascinating marine life such as hermit crabs and chiton. The reef flat is located approximately 90 metres offshore and the depth varies between two metres and a half metre when the tide is low. Snorkelers and those who wade out to the reef should wear thick sneakers to protect their feet from the fire or stinging coral, and they should also be aware of rising tides.
The Bay has plenty of shade and is a favoured spot for day picnics and family gatherings. The picturesque seascape fits into the ideal image of a Caribbean getaway (and is an epic background for a photo). Salybia Bay is also known for surfing and visitors even camp on the soft sands. The amenities include changing rooms, toilets and lifeguards.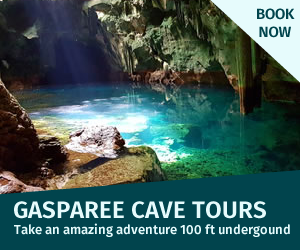 Reviews
Start your review of Salybia Bay
Click stars to rate
---
Latest Reviews
Nearby Destinations (2)