Angel Falls is a beautiful waterfall with a celestial glow at its top and a 50ft water drop to the rocks below.
Like
Details
Located in the foothills of the El Tucuche mountain is Angel Falls – a beautiful waterfall that flows over a 50ft (15m) escarpment onto the rocks below. The water does not falls directly into a plunge pool but cascades along the rock into 2 basins.  The first is ideal for non-swimmers and kids to wade in.  Alternatively, many choose to climb the rocks to get directly under the water-drop for a revitalizing natural massage.
Looking up from the rocks below, the reason Angel Falls gets its name becomes obvious.  As sunlight shines through the mist at the waterfall's top, an almost celestial glow is produced against the backdrop of the dense verdant surrounding vegetation.
From the rocks at the base of the waterfall, the water flows down to the second basin that is ideal for a refreshing swim.
Getting to Angel Falls requires a one-hour hike from Zorro Trace just off the North Coast Road, between Maracas and Las Cuevas.  The trek takes visitors across small streams and through a forested area that is peppered with bright orange immortelle (Erythrina poeppigiana) which blossom in February. Hikers trek steadily uphill for one mile. Once to the top of the hill, its all downhill from there. All the way down, one can hear the roar of the waterfall. Exercise caution on the descent as the rocks are very slippery and the use of ropes left by others is needed.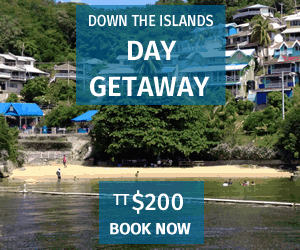 Reviews
Start your review of Angel Falls
Click stars to rate
---
Latest Reviews
Nearby Destinations (3)