The Covigne Gorge traverses a branch of the Cuesa River through the remnants of a cocoa and nutmeg Plantation once known as the Macqueripe Estate. An invigorating walk up stream through a 30ft high gorge and over rock brings you to a plunge pool.
Like
Details
Destination 101:
Wear long pants to protect against grass and apply insect repellent to ward off mosquitoes and other insects.
This hidden gem located deep in the Tucker Valley in Trinidad was carved out of the mountain rock by a branch of the Cuesa River which winds through an old cocoa and nutmeg plantation. A popular hiking destination, the trip to the gorge can take just about an hour as you walk through the undergrowth and then up along the river bed. The wet rock reflecting the sunlight that slips through the forest canopy above makes for a spectacular sight as the surrounding thick greenery combines to produce rich shimmery gold-green hues. But the real treat is at the end of the trail where an invigorating rope-assisted climb up the rock face brings you to a waterfall and plunge pool where you can take a revitalising swim in the cool fresh mountain water. Along the way you are constantly intrigued as you encounter a variety of insects including caterpillars, spiders and ants. But best of all, you are occasionally greeted by emperor butterflies that flutter by as you trek to your destination.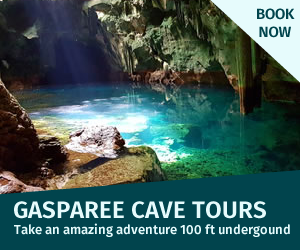 Reviews
Start your review of Covigne River Gorge
Click stars to rate
---
Latest Reviews
What a phenomenal day. We were so excited about this hike and it delivered - excitement, adventure and family fun. Even the kids enjoyed it.
Nearby Destinations (6)