Located at the end of the Tucker Valley Road, Macqueripe is a small pocket beach just 117 metres long and 16 metres wide tucked neatly in a bay which makes for great bathing, snorkeling and scuba diving.
Like
Details
Destination 101:
Be careful of the steep drop-off at the water's edge. There is a life guard station but this is not always manned.
Situated at the base of a hill, your visit to the beach will take you down a stepped-concrete walkway from the car park to the sand below. From the walkway the view of the bay is spectacular and on a clear day you can see the Venezuelan main land in the distance. The walkway meanders through a well-cared for garden which makes the destination even more picturesque. If you are looking for a tan, this is not the beach for you, as the tropical forest covered hillside creates considerable protection from the sun. As well, the waves break high up on the narrow beach so there is very little room to lay a towel without getting wet. But Macqueripe makes up for its limited sand real estate with its generally calm, deep waters in which swimming is delightful. It is this deep water bay that made Macqueripe ideal as a US submarine station during World War II, when the Americans occupied Trinidad's North West peninsula. Before then, the bay was the picturesque backdrop to the Macqueripe Beach Club, comprising a hotel and several cottages owned by Sir George Fredrick Huggins in 1924. During the American occupation from 1941 – 1972 the Club was run as an entertainment centre for the families of the American officers. At the beach area there are also benches. There are public toilets and changing rooms. There are hiking trails in the mountains that border the bay. The latest attraction is zip lining.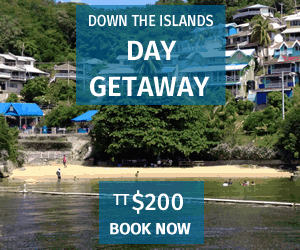 Reviews
Start your review of Macqueripe Beach
Click stars to rate
---
Latest Reviews
Nearby Destinations (4)