Relax by the pristine pools or jump off the top of the Paria Falls as a reward for that trek through the North Coast Forest.
Like
Details
The secluded Paria Waterfall can be accessed by hiking trail through Blanchisseuse or Matelot, or by boat. The journey provides breath-taking views of stacks, arches, caves and other natural formations along the coastline. The hiking option starts at the Blanchisseuse Spring Bridge, through the North Coast Forest, over uphill climbs and downhill slides, across the Paria Beach and ends with a short trek to the Paria Waterfall after approximately two and a half hours. Though some hikers have regarded the hiking level as strenuous, it is doable even for inexperienced hikers and first-timers.
During this coastal hike, travellers will come across a majestic 50ft peninsula known as Turtle Rock. Its name is derived from the green and marine turtles that frequent the surrounding Caribbean Sea. This spot overlooks the coast and is an ideal backdrop for pictures.
The Paria waterfall is a refreshingly short walk 15 minutes inland from the scenic Paria Beach. Following the river located at the eastern end of the beach, one comes across one of the most remarkable hidden waterfalls. Clean, clear, pristine waters of the Northern Range tumbles over 10ft of rocks into a refreshing and blissful plunge pool, to rejuvenate the body and mind for the hike out.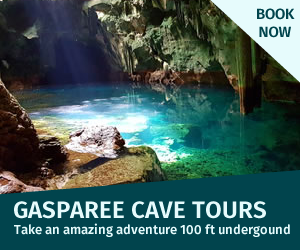 Reviews
Start your review of Paria Waterfall
Click stars to rate
---
Latest Reviews
One of the hidden gems of Trinidad
Nearby Destinations (1)