From the 12th to the 23rd April 2019, the hotels has options for visitors. Select from All-Inclusive (all meals); Semi Inclusive (Dinner and Breakfast) and Buffet Breakfast options
Cara Suites is close to many tours and attractions offered by www.destinationtnt.com; San Fernando Hill is 9 km away; the Pitch Lake La Brea is 30 km; the
Caroni Bird Sanctuary is 30 km; Waterloo Hindu Temple is 17 km; Pointe-a-Pierre Wildfowl Trust is 7 km away.
For Easter weekend, luxury can start at just TT$799 per night with Buffet Breakfast included or enjoy an all meals inclusive package for just TT$1,699 per night. Simply Book Now for luxury without the high price.
THE CHANCELLOR HOTEL
DTnT Top Pick – Easter Buju Banton Special
Come and experience the allure and elegance of the Chancellor Hotel, which offers a carefully crafted mixture of old-world charm with modern amenities.  Our 30 spacious rooms are designed for comfort and convenience and cater to all your travel needs. Our affordable accommodation is ideal for large groups such as families. Each room is styled differently with walls painted in warm island colours, draped with exotic batique fabric, and decorated with sculptures and other pieces of art made by talented nationals from around the Caribbean and as far as Uganda.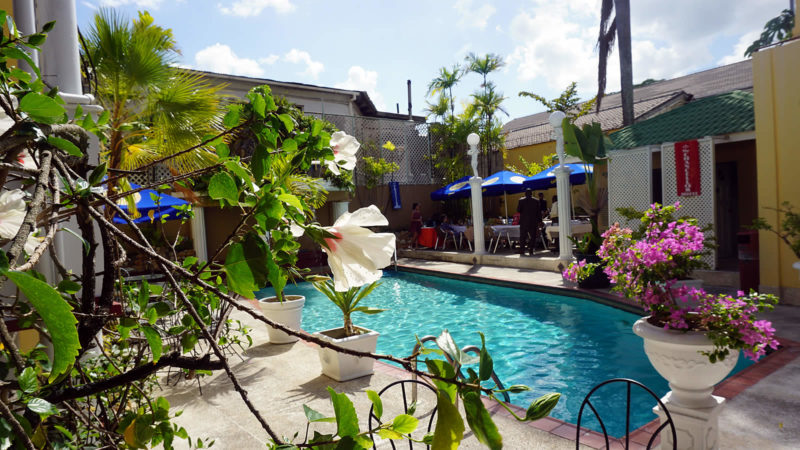 Our guests can choose to enjoy serenity and privacy in their rooms or jump into a world of lively fun at the tropical waterfall pool. But even while relaxing in your room or frolicking at the tropical waterfall pool, we ensure you remain connected to the world.
Want to attend the Buju Banton concert in Trinidad? Need somewhere to stay in Port of Spain? The Chancellor Hotel is ideally located and affordable.
Book the Easter Weekend Special: Choose your room – Heritage Suite (sleeps up to 5); Deluxe (sleeps up to 4); Standard (individual / Couple) and select your prefered treat of 1) Tickets to Buju in Concert or 2) Easter Chocolates & a Bottle of Wine.
ANISE RESORT AND SPA
DTnT Top Pick for Delicious Brunch.
Anise Resort and Spa is an all-inclusive 11 room resort located in idyllic north coast village of Sans Souci. With world class cuisine, a designer infinity pool, great spa facilities and walking distance from beautiful beach at Big Bay, this resort is the perfect destination to relax and getaway from it all.