The Best Tours for Kids to have a Great Holiday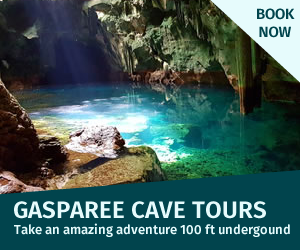 Vacation time is time of family bonding and memories, here are a couple tours filled with mesmerising beauty, enchanting sights and sounds and activities for travellers of all ages your family can look back at with fondness.
Tobago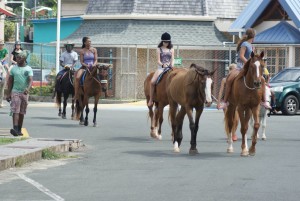 This special 2 hour experience is a joyful one for both horses and riders. Enjoy the beauty of the Horses, swim with them in the sea, ride them on the sand and become engulfed in this wonderful experience hosted by a lovely couple. Best part, this tour is for all ages, so for all the animal loving children this experience is rated F for fun!
This is one of many serene destinations in the tropical paradise that is Tobago, the tour starts with an educational and exciting glass bottomed boat where you can see the colourful aquatic life pass you by, stop for a snorkelling amongst some of the oldest reefs then head on over to the warm waters of Nylon Pool – great for children because of its ankle sometimes calf-high clear blue, warm water!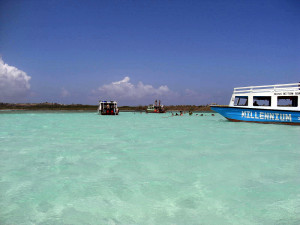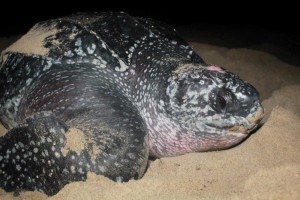 On the sister isle for vacation but yet to experience the nesting ritual of the leatherback turtle, well you are in luck! Turtle beach is well known nesting site for these large animals and their young, it is also a great and relaxing, bathing and kayaking site.
Trinidad
Bush Bush wildlife /Nariv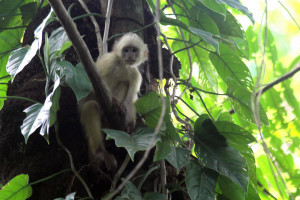 a Swamp
Be one with wildlife where red howler monkeys, huge silk cotton trees which also serve as the nesting place for colourful parrots, the red-bellied macaw and an array of beautiful butterflies. Travel over to the Nariva Swamp for a fascinating kayak ride to see more monkeys, and other interesting creatures such as the tree-climbing porcupines, anacondas, caimans (alligators), anteaters, the endangered ocelot and the peaceful manatee – a sea cow indigenous to Trinidad.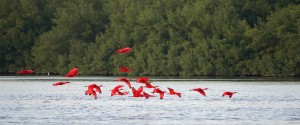 This evening tour is a sure sight for all, as dusk falls the skies and surrounding trees/mangroves become covered with red as thousands of these bright National birds come in to roost. Sights of caiman and other fauna while on the way and waiting is a teat as well!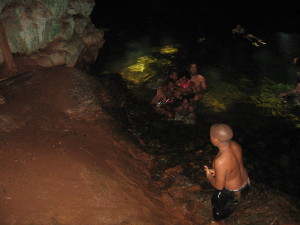 Be amazed of the various formations of natural limestone caves, where people have actually seen formations of Buddha and the Virgin Mary. The waters flowing through the caves glisten as hints of sunlight peep through the walls giving off a luminous glow throughout the cave – a sight to behold!
Grande Riviere – Turtle watching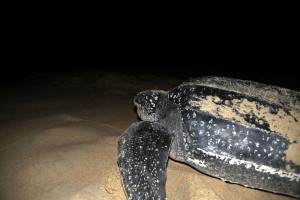 One of the most important and largest nesting grounds for the Leatherback Turtle, boasting hundreds of sightings per night during the months of March to August. Here the night comes alive with these 800 lb creatures that come ashore to lay their eggs. In the latter half of the season (this is the best time!) visitors are lucky enough to witness thousands of hatchlings emerge from the sand and head to the sea.
Nature Seekers – Turtle Watching, Nature Walk, Kayaking, Mermaid Pool,
A time for all with a host of activities all brought to you by the community group, Nature Seekers of Matura. Their tours are not only a fulfilling experience for the entire family but also provide education and awareness in the area of environmental conservation. The tours offered include: -Nature Tours/Walks through the Forest, Hike to the Rio Seco Waterfall Tours, Mermaid Pool, Kayaking on the Salybia River and Turtle Watching Tours!
Samaan Park and Ziplining
This a popular destination is the starting point for several popular hiking trails. Children can get lost in their imagination under the 200 year old, giant mushroom-like trees for hours! It is also a great place for running, biking, and jogging.  Let the children also burn off some energy while zipping through Tucker Valley at the zip lining adventure park just 5 minutes away – ZIPITT
Another great tour filled with interesting tropical birds, bright flora on beautifully landscaped grounds. Ponds can be accessed via boat or a nice stroll through the garden – very informative and memorable tour with water fowl walking and paddling through the ponds and if you're lucky you may be graced of the beauty of peacocks, both the colourful and white ones!