Opalescent October: A monthly Guide to enjoying the best of Trinidad and Tobago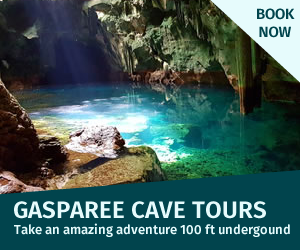 Opalescent (adj): Showing varying colours as an opal does.
What an apt adjective to describe the month of October. Celebrations and events such as Divali, Dragon Boat Festival and the Blue Food Festival in Tobago display the rich multiculturalism of Trinidad and Tobago and all those and more are happening throughout October! Look out for our top five favourite non-beach destinations on the island of Tobago. (Scroll to the bottom)
And if you need a place to stay for your visit to Trinidad or Tobago, you are sure to find the perfect place among our accommodation options.
Here's what is happening this month:
First People's Heritage Week
Heritage Week celebrates the First Peoples and aims at revitalising the sense of pride and interest in the heritage among their descendants. This year's theme is "re-igniting the ancestral fires, establishing presence". The Heritage Week will run from 8th to the 16th October. Past heritage festival activities have included a Smoke Ceremony, Indigenous Water Ritual, a Ceremony to the Ancestral Spirits, an Open House for the public and students, a Heritage Cultural Fair and a Cultural Show.
For more information, visit the Santa Rosa First People's Community website at http://santarosafirstpeoples.org/.
The Dragon Boat Festival
Dragon Boat racing is one of the lesser known sports in Trinidad and Tobago. A dragon boat is a boat made in a traditional Chinese design, powered by the paddling of its large crew. A crew usually comprises of 22 people: 20 paddlers, 1 drummer at the bow facing the paddlers and 1 steerer at the back of the boat. There may be more or less people depending on the size of the boat.
Dragon Boating is not a new sport but was introduced in 2006 by a team of Chinese businessmen lead by Mr. Franco Siu Chong for the Chinese Bicentennial Regatta. Since then its presence has grown and today the Trinidad and Tobago Dragon Boat Federation lists twenty-two official corporate teams (twelve from Trinidad and ten from Tobago) and sixteen official school teams.
Throughout the year there are numerous regattas taking place across the country in places such as Chaguaramas, Point Fortin and Tobago but the main Dragon Boat competition (or regatta) happens during the month of October.
This year the Grand Chinese Arrival Dragon Boat Festival takes place at Chaguaramas Boardwalk, Williams Bay, Chaguaramas on Saturday 8th and Sunday 9th October, 2016 from 9 am to 4 pm.
 For more information, check the Facebook page of the Trinidad and Tobago Dragon Boat Federation.
Hosay Festival
Every year, Hosay is observed with a parade full of colourful tadjahs in commemoration of the martyrdom of Husayn (also spelled Hussein) and Hassan, grandsons of Muhammad, the Prophet of Islam. Tadjahs are elaborately decorated models of mosques made of paper and tinsel.
The Hosay processions will be on the 11th October with the largest observance being held in St. James, a suburb of Port of Spain. Other vibrant processions can be found in Curepe, Tunapuna, Couva and Cedros. The parade draws thousands of spectators of all religions every year. No matter where you choose to view this festival, please remember that because of its religious significance, alcohol is not encouraged.
To learn more about the Hosay Festival, click here.
Blue Food Festival, Tobago
If it's one thing Trinbagonians love, it's their food. One of the many celebrations of food and culture is the Blue Food Festival in Tobago.
So what is blue food?
No – it is not food with blue food colouring. Locals refer to food that is derived from the ground as blue food, especially dasheen. The culinary experience sees various dishes, made from provision but mostly dasheen, such as bread, ice-cream and even dasheen wine!
The Blue Food Festival will take place on the 16th October, ironically coinciding with World Food Day, at the L'Anse Fourmi/Bloody Bay Recreation Grounds. The journey to the North-West villages can make for a good road trip with friends and family and what better to journey to than good food paired with entertainment.
Divali
Divali is a religious Hindu festival also known as the Festival of Lights. It celebrates the triumph of light over darkness. The observance is based on Hindu scripture: the return of Lord Rama, along with his wife Sita from his fourteen-year-long exile and his vanquishing the demon Rawan. In joyous celebration of the return of their king, the people of Ayodhya, the Capital of Rama, illuminate the kingdom with deyas. Hindus traditionally clean their homes and surroundings, wear new clothes and light deyas made of clay and filled with oil or ghee.
The celebration of Divali in Trinidad is one of the largest in the English speaking Caribbean.  Celebrations are not only held at temples and by religious groups but has been extended to homes and communities embracing the festival.
Divali will be celebrated in Trinidad and Tobago on the 29th October but globally recognised on the 30th October.
To learn more about the Divali Festival including delicacies and bamboo bending, click here.
**Bonus Fun
The Halloween Street Festival
Traditionally Caribbean countries do not celebrate Halloween but for Trinbagonians it is just another excuse to display creativity. This year, the Rust Street Bars and Clubs have teamed together to present a Halloween experience like none other on Saturday October 29th.
Find more information at http://www.streetfestivaltt.com/.
Over the weekend other venues will have Halloween-themed events and on Halloween night the 31st, select neighbourhoods have adopted the custom of trick or treating to the enjoyment of both children and adults.
Animation and Digital Media Festival
Animae Caribe hosts its 15th Animation Festival from the 24th – 30th October. It is the Caribbean's biggest animation festival and is a weeklong of activities ranging from screenings, virtual reality and interactive displays.
Find more information at http://animaecaribe.com/
Our fav five non-beach Tobago Destinations
Argyle Waterfall – Tobago's highest waterfall with a natural and refreshing swimming pool.
Fort King George – With stunning views over Tobago, one of the best places to watch the sun set.
Main Ridge Forest Reserve – The oldest legally protected rainforest in the Western Hemisphere.
Kelleston Drain, Speyside – Largest brain coral in the world.
Tobago's Original House of Pancakes – Only a few minutes away from the airport it is a must-try.