Why I love hiking and exploring Trinidad and Tobago: Destination Blanchisseuse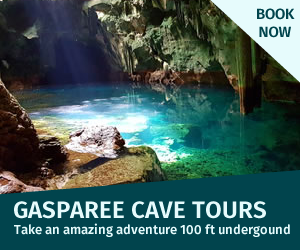 by Shalana Dookie – Trini  Explorer
Trekking in Blanchisseuse brings on a very special feeling.  That feeling when you know you have walked a part of our beautiful islands that just a few hundred persons have been and seen, is just one of the many reasons why I enjoy exploring Trinidad and Tobago.
Blanchisseuse is an amazing village located midway along the north coast of Trinidad but to me it's the home of 3 amazing hikes. The lush forest is home to amazing animals and plants. Rocks that have taken some of the most unique formations you may ever see, but you  may ask  what is my favorite part? The shear greatness of the glassy, crystal clear Marianne River and how it reacts with the rocks changing its colour to a bright red or deep burgundy.
Paria Waterfall is the most difficult of the 3, then there is 3 pools and Avocat the easiest of all.
Paria Waterfall
Paria, holds the pathway to some amazing sites that include Turtle Rock Lookout, the Cathedral, Paria Bay and then Paria Waterfall. The hike starts at the spring bridge in Blanchisseuse and takes about 3 hours to get there. I have done this hike 3 times and on every trip I'm blown away by the beauty and serenity. I have seen red Macaws, sea turtles and snakes on many occasions. This isn't for the faint of heart, but it will certainly get your heart going.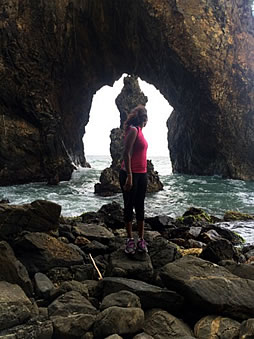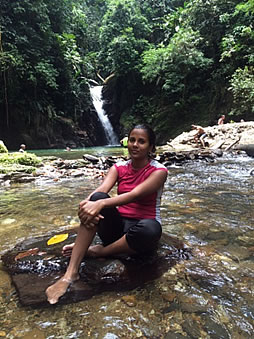 3 Pools
3 Pools is simply breathtaking!  It starts at the spring bridge, the trail takes you to the river and from there it's not much longer, maybe 25 mins upstream. The river makes a bend and you see it. The 1st pool, a narrow stream of water opening up into a gorgeous wide powerful pool.  It is awesome! The forest is beautiful with fallen logs adding to the ambiance. You can either swim from here or use a rope to cross the rocks to find the smallest of the tree pools but don't be fooled – it's still very mighty. The last pool with a 20ft  tall rock that narrows the river again is my personal favourite one of all.  If you are super adventurous there is more to explore.  Swim up and behind this rock, you will find beautiful gorges formed over time with the rocks turning a reddish color.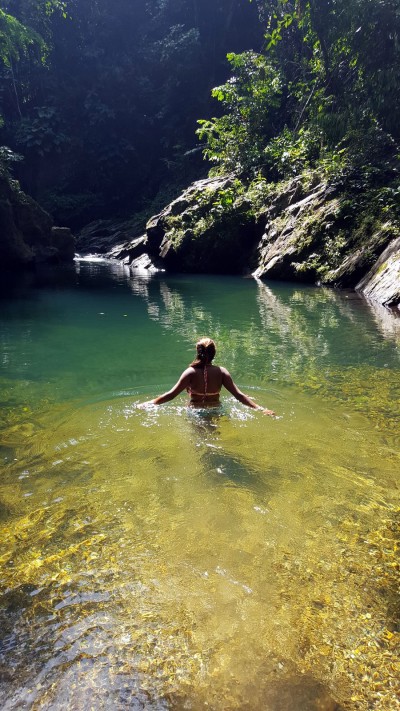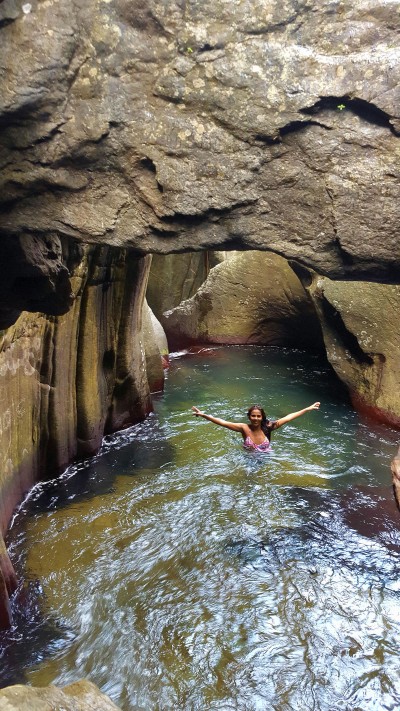 Avocat Waterfall
Avocat Waterfall is another jewel that is located in Blanchisseuse. There is parking for your vehicle in Papa John's yard where he watches over your vehicle for a small fee. You then head downhill until you meet the river from there you are walking upstream again until you meet a Y in the river. Take the right and you can now see, hear and feel it. The wind gets much colder but the waterfall  is so  majestic you almost forget you were cold. The water is spectacular and you can swim up and behind the falling water – again for the adventurous. This experience is worth more than money can buy.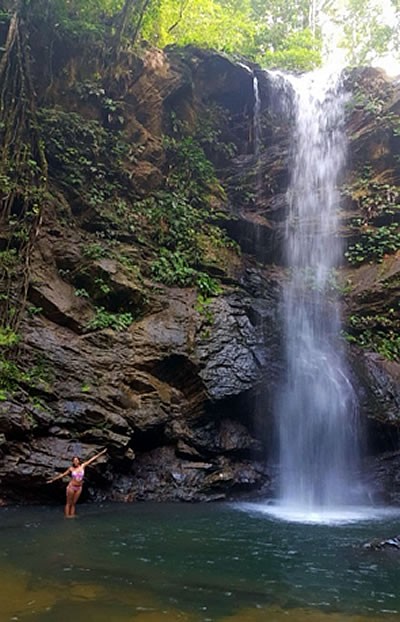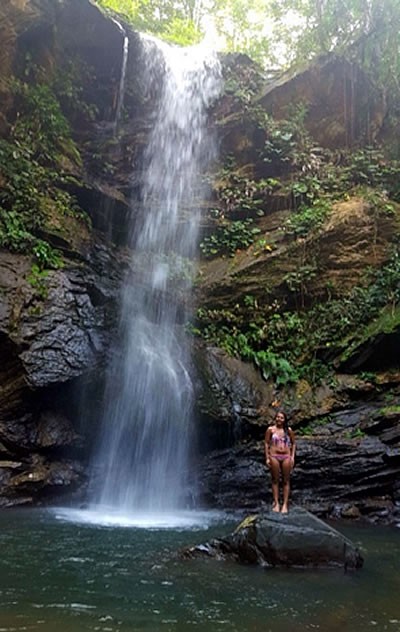 Hikes for you and almost anyone. The difficulty varies so I do recommend knowing what you are capable of.
Shalana's Tips:
Here are a few quick tips, I have learned while trekking, to keep in mind:
How to dress
Always have sneakers with proper grips, no hiking in your Toms. Personal tip! No ankle high socks because eventually the sneaker rubbing against your ankles will leave blisters. For me I like to wear comfortable clothing, no cotton clothing because it takes long to dry.
What to carry
I always trek with my backpack taking ziplock bags for my phone and sandwiches; water and other essentials – but my tip is keep it light. You never want to be uneasy because your backpack is heavy.
DO NOT LITTER!
Now I have a real issue with this. I have visited places and seen the mess persons before have left. Remember to PLEASE (and I cannot emphasis any more on this) take everything that you brought with you. Bottles, snack wrappers and anything else should not be left behind. Be conscious. And do not litter.
Slippery when wet.
Always be aware of wet rocks. I am a bit of a clumsy person and I'm recommending from my personal experiences to be mindful of wet rocks.  They can be very dangerous.