Five Awesome Experiences in Trinidad to enjoy for the Upcoming Long Weekend
Another long weekend is on the way (Friday 13 October to Sunday 15 October) and the perennial question is asked again, "What can I do to enjoy the weekend?"  Fortunately, there are always lots to do in Trinidad.  Not sure what?  Well here is our pick of some awesome experiences you can enjoy.
Attend the First Peoples Festival
Okay, so the reason we have this long weekend in the first place is because Friday 13 October is a 'one-off' public holiday granted to celebrate the indigenous people of Trinidad and Tobago – you know…the Amerindians.  Those great people who were here long before Columbus showed up.  So why not partake in the many activities scheduled to celebrate their heritage and lifestyle.  Check out the full list of activities here.
Take a Tour of Gasparee Caves
Every holiday is perfect for a visit to Gasparee Caves – a magnificent system of natural limestone caverns and caves on island of Gaspar Grande that you can safely walk through and explore.  A tour to the caves is filled with a fun short boat ride to the island of Gaspar Grande, a short hike to the top of the cave and mystical descent 100 feet down into the caves.  Sounds fun?  Fortunately we have a tour scheduled on Friday 13 October.  Come and enjoy – Book now
Enjoy the Day at the pool in Salybia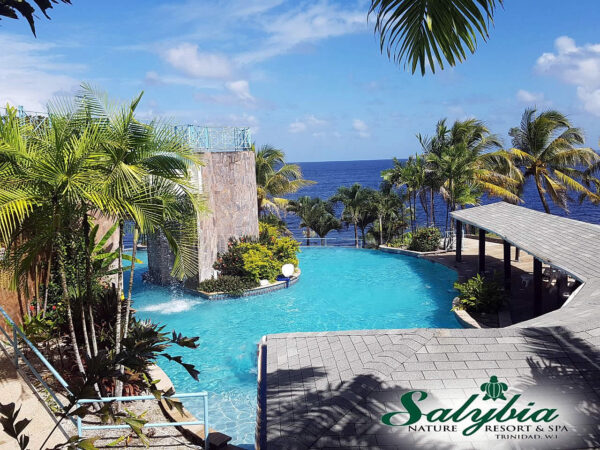 If you want to get away for just the day, then Salybia Nature Resort and Spa is the place for you.  With a magnificent infinity swimming pool that features a waterfall, a swim-up bar and enclosed 'caverns', a day pass at this resort is a fun time for the kids.  Starting at TT$200, the package includes Bar Snack & use of the pool and pool facilities from 10:00 am to 6:00 pm. Or overnight for the weekend with rates starting as low as TT$775 double occupancy per night. Learn more
Get Away from it all in Talparo
Yes, we said Talparo! This quiet region in the centre of Trinidad (literally) hides one of the the best kept accommodation secrets on the island –  Hacienda Jacana – a clutch of 4 four stunning log cabins surround by the forest and set on the edge of a lily filled pond large enough to kayak in.  The serenity of the surroundings is so astounding that you loose track of all time and place, and slip into a luxurious mode of utter relaxation.  With other amenities like cable television (if you really need it), free WiFi. air conditioning, a great swimming pool and much more, Hacienda Jacana is the complete get away package.  Book your getaway now
Visit the Zoo
The zoo…really? Yes DEFINITELY! With some recent upgrades and the introduction of many fascinating animals such as Giraffes, Mandrills, Giant Otters, Zebras, and Llamas, the Emperor Valley Zoo is a destination everyone should visit. Packed with excitement, live displays and a safe well-designed environment, the zoo is a great learning and fun-filled experience that children and adults alike will enjoy.  When you are finished at the zoo, head over to Queen's Park Savanna of the Botanic Gardens for a picnic or a pleasant afternoon stroll.